This unique method originated in Hollywood and Switzerland was the first place in Europe where it is practiced and now here in Dubai!
Thanks to the patented purification wrap, it promises weight loss on chosen problem areas. The wraps nourish the skin and supports tissue, making it firm again. With type appropriate dietary advice (blood group dietary) you can learn how to become delightfully slim and stay that way.
Gentle training with electronic muscle stimulation devices (EMS) or with a trampoline, ensures that you focus on the reduction of fatty tissue (and not muscle), while increasing your basal metabolic rate. It also prevents you from being caught up in a yo-yo effect. Our vitality consultants offer you a personal service, working with you until you reach your desired goal.
---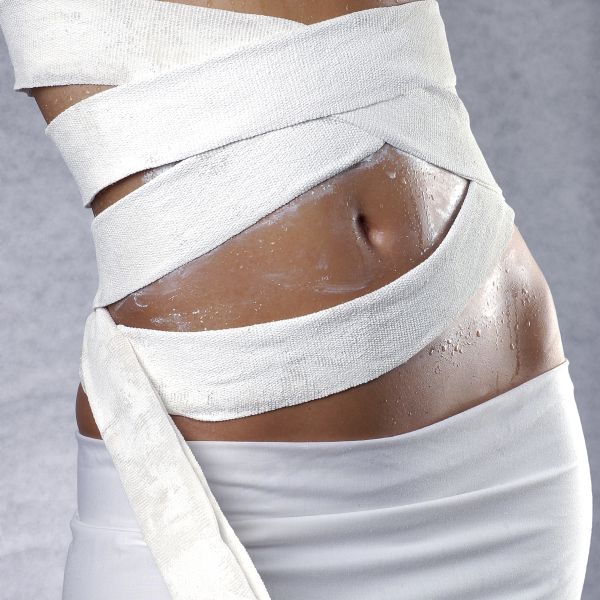 WE OFFER THREE DIFFERENT PATENTED MINERAL FORMULATIONS THAT PROMOTE THE DETOXIFICATION OF FATTY TISSUE, EFFECTIVELY STRENGTHEN THE CONNECTIVE TISSUE AND ENABLE WEIGHT LOSS
SLIMMING COMPACT
The luscious BODY WRAP formula for targeted weight loss, at a special, slim-line price. The compact mineral solution that we use in our SLIMMING wrap consists of high-quality extracts of handpicked herbs and inorganic minerals. The high concentration of active ingredients such as magnesium sulphate, calcium, potassium, and other natural ingredients promotes sustainable weight loss: On the one hand, our new formula helps to break down and remove impurities from the skin, while on the other hand, it helps to compress the space between fatty cells more efficiently during the treatment.
Slimming Compact Treatment
The treatment takes approx. 90 minutes and includes Wrapping of 30 minutes and gentle movements from 30 until 45 minutes on a trampoline.
---
VITALITY
The unique formula of vitamins and minerals for increased tone and vitality.
The new formula is made from the unique SlenderTone™ mineral solution. The combination of finest, hand selected and inorganic minerals cleanses your skin and strengthens the tissues. Due to the high concentration of vitamins and minerals, you will experience increased vitality and a feeling of freshness. At the same time the skin is gently nurtured, gaining moisture and elasticity. The result is skin that is visibly refined and toned.
Vitality Treatment
The treatment takes approx. 90 minutes and includes Wrapping of 30 minutes and gentle movements from 30 on our EMS Machine
---
ENERGY
Power Wrap with aromatic herbs: Powerful pick-me-ups for maximum energy in a short treatment time.
Specially designed short-term programme for dedicated business people. The Power Wrap with an aromatic mix of herbs from the Amazon actively stimulates and energises skin. With selected extracts of green tea, peppermint, Guarana, Aloe Vera, myrrh and ginger, ENERGY is a fast acting pick-me-up for when life is hectic. The result is fast, maximum results in a short treatment time.
---
All skin cocktails have been developed and are the result of several years of research by U.S. scientists and are made from 100% natural ingredients. They are produced in a sophisticated lab, exclusively for BODY WRAP. Please take a spare of underwear with you.
The success of the Body-modelling can be measured in centimetres: As tissue begins to firm, your shape will begin to change.
Get in Touch
---
We always love to hear from our customers. Feel free to drop in or contact us during our business hours.