Coolsculpting™ is a noninvasive procedure that effectively removes stubborn fat deposits in the abdomen, hips, back, inner and outer thighs, back, and chin, using cold technology. There is no downtime, needles, anesthesia, chemicals or surgery involved. Patients can expect to see about a 20% reduction of fat in the area with each treatment. The number of treatments varies and will be determined at you personal consultation.
Patients who are generally fit, but have small areas that are resistant to diet and exercise are optimal candidates.
---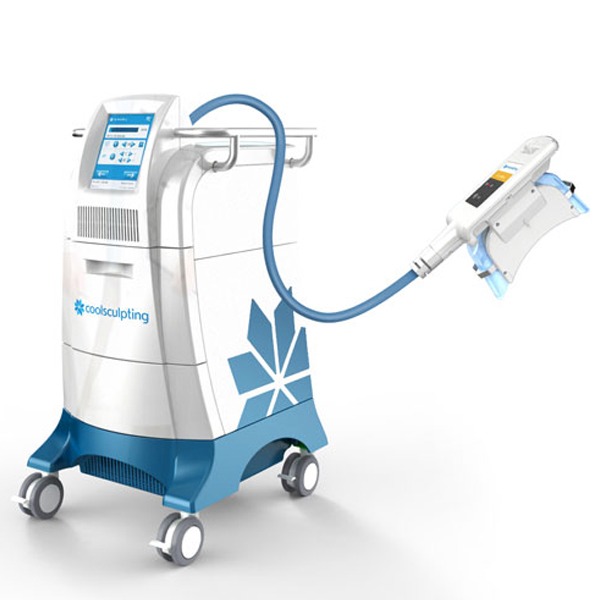 Procedure
• A specially designed applicator cup will use gentle suction to draw your tissue between the cooling panels (for treatment of the outer thighs, the applicator is positioned with Velcro scraps).
• During the first 1-10 minutes you may feel temporary discomfort because of the suction, pressure, and cooling. After that time, Coolsculpting™ is generally very well tolerated. No topical or general anesthesia is needed.
• Depending on what area is being treated, you may be positioned lying flat or sitting up. Most patients read, listen to music, work on their computer, or simply sit back and relax.
• Procedure time generally is 35 minutes per side treated (the exception is that the outer thigh is treated for 2 hours per side). Most patients choose to treat both sides on the same day for symmetry although you can schedule appointments on different days if needed or if multiple areas are being treated.
Stubborn fat is a common problem
Coolsculpting targets the fat cells killing them using controlled cooling
Your body will process and eliminate the dead fat cells within the next few weeks
The results of Coolsculpting are long term because the fat cells are permanently removed
Eliminate Stubborn Fat Now
The Coolsculpting procedure targets stubborn fat cells so they are killed and permanently eliminated from your body. That's why the results are long-term and the fat cells are gone forever.
Book your session
Get in Touch
---
We always love to hear from our customers. Feel free to drop in or contact us during our business hours.